Beauty & Self
Books & Music
Career
Computers
Education
Family
Food & Wine
Health & Fitness
Hobbies & Crafts
Home & Garden
Money
News & Politics
Relationships
Religion & Spirituality
Sports
Travel & Culture
TV & Movies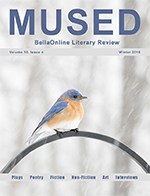 Sometimes it seems as if winter quotes make winter out to be a necessary evil which exists only for us to appreciate the subsequent warmth. Shelley: "If winter comes, can spring be far behind?" Shakespeare: "Now is the winter of our discontent made glorious summer by this sun of York." Hugo: "Laughter is the sun that drives winter from the human face."

But winter is far more than a down against which to compare the subsequent ups. Winter is a powerful, magical time. It is a season of strength. Of looking inward and finding focus. Bob Seger stated, "I write probably 80 percent of my stuff over the winter." Terri Guillemets reminds us, "The color of springtime is in the flowers; the color of winter is in the imagination." The Winter Solstice is a time to embrace the mysterious. The endless possibilities. The sense that we already have, within ourselves, boundless creativity and opportunity. We simply have to still ourselves and listen.

Winter is a powerful season. It gives us that space to look back and learn from our history. To look forward and envision what we wish to become. To be fully mindful of the present and be aware how each day has potential for us to speak out and impact the way our world proceeds. To move us toward peace, fulfillment, and an appreciation of what each of us has to offer.

Happy Winter Solstice.

Enjoy the Mused Winter Solstice 2016 Issue



Turning Your Hobby Into Profits
Small Office/Home Office - Carla Cano, Editor

Tips for turning your hobby into a profitable business.




Newspaper Sculpture
Crafts for Kids - Launa Stout, Editor

This amazing "build-it-big" project is amazing to children. They can create something large and quickly and in the process they learn something about engineering and balance and structural strength.




Angel Message Tenderness
New Age - Deanna Leigh Joseph, Editor

People often believe that tenderness is risky; that it may leave them vulnerable to heartache, or suffering. However, this is not the case. When you walk through your life with a tender heart, you allow yourself to be guided by your heart's wisdom. And, you will more easily hear the loving support o




Tarot and Empathy
Tarot - Linda J. Paul, Editor

Empathy is definitely a necessity when it comes to reading Tarot. In order to understand what a client is experiencing in his or her life, the reader must be able to fully listen without judgement or bias.




MTH - List of Magic Tree House Books - Hardcover
Children's Books - Launa Stout, Editor

Jack and Annie, time travelers, are in Mary Pope Osborne's Magic Tree House Books. Magic Tree House Children Adventure Books. Merlin Missions. List of Magic Tree House Books Hardcover.




African-American Women Inventors
History - Vance Rowe, Editor

Did you know it was an African-American woman who invented the home security system complete with a camera and monitor in 1966? Read more about her and other African-American women who invented common household things we still use today.


| Google+ |
E D I T O R R E C O M M E N D E D
Life Extension Mega Green Tea Extract


Green Tea, or Camellia Sinensis, has been a hot news topic in recent years. Green tea is a main staple consumed by Asian populations for thousands of years and is purported to have numerous beneficial effects on health - one of them being weight loss.
Jesus of Nazareth


Award winning film produced by Franco Zeffirelli, depicts the life of Jesus Christ from birth to resurrection. Originally made for television in 1977, this set is available on DVD or VHS. It´s been a few years since I last watched this awesome depiction of Christ´s life, but it still remains one of my favorite.
Grave Mercy


Grave Mercy by Robin LaFevers is set in medieval Brittany and features Ismae, a seventeen year-old peasant girl turned assassin who must pose as the mistress of principled knight Duvall in a secretive land of supernatural visions and imminent invasion by the hated French.